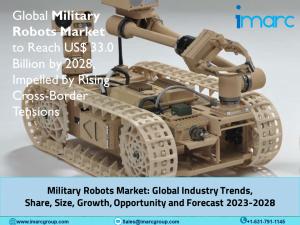 BROOKLYN, NY, USA, April 17, 2023 /EINPresswire.com/ — The latest report published by IMARC Group, titled "Military Robots Market: Global Industry Trends, Share, Size, Growth, Opportunity and Forecast 2023-2028," offers a comprehensive analysis of the industry, which comprises insights on the market share. The report also includes competitor and regional analysis, and contemporary advancements in the market. The global military robots market size reached US$ 17.2 Billion in 2022. Looking forward, IMARC Group expects the market to reach US$ 33.0 Billion by 2028, exhibiting a growth rate (CAGR) of 11.35% during 2023-2028.
A military robot refers to an automated or human-operated mechanical device that is used for Intelligence, Surveillance, and Reconnaissance (ISR) activities on water, land, and air. These machines are configured explicitly for military functions and are equipped with Light Detection and Ranging (LIDAR) systems, global positioning systems (GPS), and fiber optics tethers to receive, transform, and forward information to various endpoints. Commonly utilized military robots, such as Unmanned Security Vehicles (USVs), are provided with video and thermal cameras, sensors, microphones, and two-way radios. These devices are used for operations involving combat support, transportation, search and rescue, mine clearance, and firefighting. In addition, military robots provide backup against heavy artillery and can also be used to rescue injured soldiers or troops from the battlefield.
Request a Free PDF Sample of the Report: https://www.imarcgroup.com/military-robots-market/requestsample
Military Robots Market Trends:
An alarming increase in terrorism across the globe and the escalating product demand that can perform hazardous tasks and can be deployed in life-threatening situations to minimize the casualties of soldiers are among the primary factors driving the military robots market. Besides this, several advancements in robotics and automation technologies are further augmenting the market growth. Moreover, the production of military robots with advanced monitoring, targeting, and information gathering systems, owing to the integration of artificial intelligence (AI), is also catalyzing the global market. Apart from this, the launch of favorable policies by the government bodies to equip air, marine, and land forces with advanced security solutions, including wheeled, tracked, and legged devices, wearable instruments, Remotely Operated Underwater Vehicles (ROVs), and Unmanned Combat Aerial Vehicle (UCAV) is acting as another significant growth-inducing factor. Furthermore, the inflating investments by the emerging and developed economies to improve their existing security infrastructure and the growing popularity of defense modernization programs are expected to bolster the military robots market in the coming years.
Military Robots Market 2023-2028 Competitive Analysis and Segmentation:
Competitive Landscape With Key Players:
The competitive landscape of the military robots market has been studied in the report with the detailed profiles of the key players operating in the market.
Some of these key players include:
• BAE Systems
• Boston Dynamics
• Cobham Plc
• Elbit Systems Ltd.
• Endeavor Robotics (iRobot)
• General Dynamics Corporation
• Lockheed Martin Corporation
• Northrop Grumman Corporation
• Qinetiq
• Saab AB
Key Market Segmentation:
The report has segmented the global military robots market based on platform, application, mode of operation and region.
Breakup by Platform:
• Land Robots:
o Wheeled
o Tracked
o Legged
o Wearable
• Marine Robots:
o Unmanned Surface Vehicles (USVs)
o Autonomous Underwater Vehicles (AUVs)
o Remotely Operated Underwater Vehicles (ROVs)
• Airborne Robots:
o Small UAV
o Strategic UAV
o Tactical UAV
o Unmanned Combat Aerial Vehicle (UCAV)
Breakup by Application:
• Intelligence, Surveillance and Reconnaissance (ISR)
• Search and Rescue
• Combat Support
• Transportation
• EOD
• Mine Clearance
• Firefighting
• Others
Breakup by Mode of Operation:
• Human Operated
• Autonomous
Breakup by Region:
• North America
• Asia Pacific
• Europe
• Latin America
• Middle East and Africa
Ask Analyst for Customization and Explore Full Report With TOC & List of Figures: https://www.imarcgroup.com/request?type=report&id=1962&flag=C
Key Highlights of the Report:
• Market Performance (2017-2022)
• Market Outlook (2023-2028)
• Market Trends
• Market Drivers and Success Factors
• Impact of COVID-19
• Value Chain Analysis
• Comprehensive mapping of the competitive landscape
If you need specific information that is not currently within the scope of the report, we will provide it to you as a part of the customization.
Other Reports by IMARC Group:
India Renewable Energy Market Report
Travel Insurance Market: https://bit.ly/43D7f5X
Car Rental Market: https://bit.ly/3MRNe5Y
Specialty Chemicals Market: https://bit.ly/3UHcb5P
Knee Pad Market: https://bit.ly/3GN8s0Y
India Dietary Supplements Market: https://bit.ly/3Hf9zqv
Latin America Business Travel Market: https://bit.ly/3ULwHSF
Luxury Yacht Market: https://bit.ly/3L9Wy3R
About Us
IMARC Group is a leading market research company that offers management strategy and market research worldwide. We partner with clients in all sectors and regions to identify their highest-value opportunities, address their most critical challenges, and transform their businesses.
IMARC's information products include major market, scientific, economic and technological developments for business leaders in pharmaceutical, industrial, and high technology organizations. Market forecasts and industry analysis for biotechnology, advanced materials, pharmaceuticals, food and beverage, travel and tourism, nanotechnology and novel processing methods are at the top of the company's expertise.
Our offerings include comprehensive market intelligence in the form of research reports, production cost reports, feasibility studies, and consulting services. Our team, which includes experienced researchers and analysts from various industries, is dedicated to providing high-quality data and insights to our clientele, ranging from small and medium businesses to Fortune 1000 corporations.
Elena Anderson
IMARC Services Private Limited
+ +1 631-791-1145
email us here