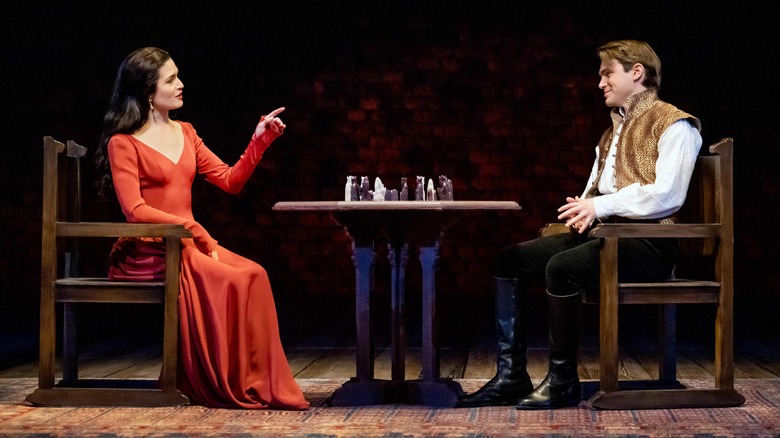 There was a moment I knew much was going wrong with Aaron Sorkin's musical bookwriting debut with the "Camelot" Broadway revival. It arrives when Phillipa Soo groans at the title number "Camelot" with an attitude that reads "Is this guy seriously doing a musical number?"
Yet, the same scene builds to a realization that Sorkin's penmanship can go right. It's when the young King Arthur (Andrew Burnap) persuades his arranged betrothed, Guenevere (Soo), of a risky experiment: "Together we may discover if power might be harnessed as a force of good." The promise of this experiment persuades the skeptical princess that her marital purpose might yield a net gain — as long as she doesn't over-test her obligations.
Those aware of "Camelot" and its often-adapted legend source material (credited to T.H. White's "The Once and Future King" in this case) know that the burgeoning passions between Guenevere and the knight Lancelot (a boisterous Jordan Donica) alter the course of Camelot. The foundations of Camelot hinge on the stability of Arthur's and Guinevere's monarchic and monogamous marriage. But can Sorkin and director Bartlett Sher's collaboration redefine a Golden Age artifact? The reputation of "Camelot" itself bears a telling refrain: Frederick Loewe's romantic music is superior to Alan Jay Lerner's book.
A Modernized Middle Age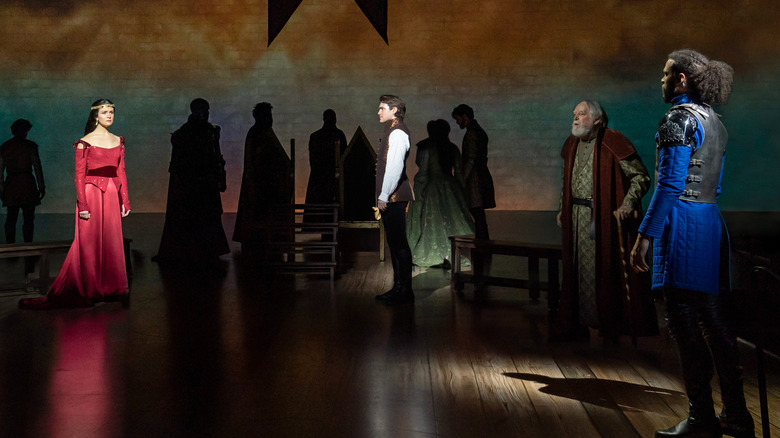 Sorkin reimagines the original production's literal magic in favor of (approximate) realism in a contemporized Middle Age. To name one example, Lancelot doesn't magically resurrect a knight. Secondly, this Arthur never longs to be transformed into a hawk. But most importantly, Sorkin's version operates on Guenevere's theory that Arthur's legendary sword-pulling was the product of "9999 people loosen[ing] it," suggesting that the latter's coronation resulted from a lottery process rather than a magical measure of worth. It gives Arthur a special vulnerability about his position, particularly among knights who pine for the old order and feel threatened by Arthur and Guenevere's ideas of equality.
From a divisive "The West Wing" scriptwriter like Sorkin, the book spins a few fresh developments by underlining the political stakes around the rigid monogamy of Guenevere's marriage. In this version, Guenevere has a French-born background that adds motives for her to bond with a fellow Frenchperson in Lancelot (with a casting subtext of two BIPOC persons relating on a level unheeded by a white Arthur). Already suspicious of a French-born queen, the British knights don't take kindly to Arthur seeking counsel from Frenchman Lancelot, and they might look for any excuse to mutiny against the royal couple's order. Although Sorkin can provide compelling background, his quippy punchiness does encourage annoying tendencies in great actors like Burnap and Soo. Several times, "Camelot" can feel desperate to overplay the contemporary delivery of such lines as "I know what a metaphor is." An attempt to connect to the audience can reduce the musical's thoughtfulness to chuckles.
Like Looking At A Painting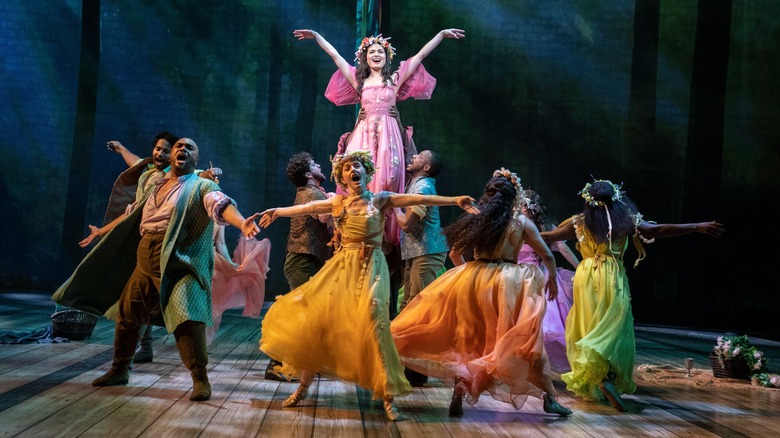 Less childlike than the late Richard Harris of the 1967 film adaptation and 1980s revivals, Burnap carves out an educated youth, both self-aware and unaware of his shortcomings. Fresh from "Into the Woods," Soo retains a magical ability to balance silk and steel. The "Hamilton" star plays Queen Guenevere's intellectual pursuit as longing for a romantic shade, something the queen might find in the honorable Lancelot, whom a dreamboat Donica injects with a grandiose swagger that melts into humility.
There is much else to enjoy about "Camelot," including Robert Russell Bennett & Philip J. Lang's 30-piece orchestration. In the same spacious Vivian Beaumont Theater, Sher also directed "The King and I" 2015 revival that sought East-and-West nuance as well as a "My Fair Lady" revival where Eliza Doolittle unambiguously flees the theatre from Professor Higgins's control. He envisions "Camelot" with a fathomable beauty expressed through Michael Yeargan's scenic floor-boarded minimalism that forgoes gilded sets. Lap Chi Chi's lighting and scenic projections (by 59 Productions) contour the arches and the walls with unobtrusive pastoral woods and interiors. You might feel that you are looking at portraits, and Jennifer Moeller's slick costume work act like the finishing touches to the painting-like scope. In Sher's tour de force of direction, "Fie On Goodness!" choreographs a stormy multi-portrait of treacheries.
How Do You Solve A Problem Like Mordred?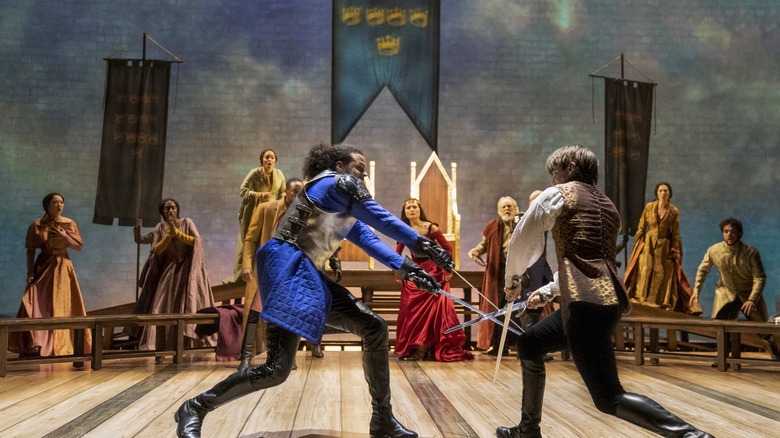 Despite its outer beauty, "Camelot" proves too that the material may be too cumbersome to reorganize. While a reimagining of the often-cut Morgan Le Fey (Marilee Talkington) introduces interesting tensions, neither Sorkin nor Sher figured out her illegitimate offspring, Mordred (Taylor Trensch), with Arthur. To be fair, both film and the 1981 Broadway revival (viewed through an HBO-aired capture preserved on BroadwayHD) never solved Mordred, a hollow husk of malice who exists to wreak havoc. Despite efforts to give him character, Trensch substitutes an emo visage (with Cookie Jordan's hair work) for dimension.
In particular, when Tom of Warwick (Camden McKinnon) enters the final 10 minutes, this ending asks something of us that isn't as possible or earned for this revival: that we can believe the foundations of Camelot can be preserved in a filtered fantasy while downplaying how it came to crumble. While Arthur takes solace in a child carrying the torch of his vision, it feels unintentionally dishonest of him to bury complexities. At least, that's my interpretation when walking out of the theatre.
For all its fractures, Sorkin and Sher's "Camelot" is a watchable experiment that I can neither recommend or discourage. So that's why Richard Harris's King Arthur wanted to be a hawk. From a bird's-eye view, he wouldn't have to be so close to the cracks of Camelot.
Read this next: Butkus To Punchy: All 9 Rocky Movies Ranked From Worst To Best
The post Camelot Broadway Review: Aaron Sorkin's Mixed Arthurian Experience appeared first on /Film.