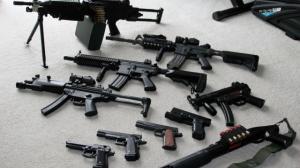 global light weapons market segmented on the basis of type, technology and application.
SHERIDAN, NEW YORK, USA, April 19, 2023 /EINPresswire.com/ — The latest research study "𝐋𝐢𝐠𝐡𝐭 𝐖𝐞𝐚𝐩𝐨𝐧𝐬 𝐌𝐚𝐫𝐤𝐞𝐭: 𝐆𝐥𝐨𝐛𝐚𝐥 𝐈𝐧𝐝𝐮𝐬𝐭𝐫𝐲 𝐓𝐫𝐞𝐧𝐝𝐬, 𝐒𝐡𝐚𝐫𝐞, 𝐒𝐢𝐳𝐞, 𝐆𝐫𝐨𝐰𝐭𝐡, 𝐎𝐩𝐩𝐨𝐫𝐭𝐮𝐧𝐢𝐭𝐲 𝐚𝐧𝐝 𝐅𝐨𝐫𝐞𝐜𝐚𝐬𝐭 2023-2028" by IMARC Group, finds that the global light weapons market size reached US$ 13.1 Billion in 2022. Looking forward, IMARC Group expects the market to reach a value of US$ 18.0 Billion by 2028, exhibiting a CAGR of 5.1% during 2023-2028.
Light weapons represent a group of weapons that are specifically designed to be utilized by more than one crew member but can also be used by one individual under certain conditions. They usually find extensive applications by defense forces in combat missions and naval operations. Light weapons comprise mounted grenade launchers, man-portable anti-defense systems (MANPADS), heavy machine guns, recoilless rifles, anti-tank missile launchers, mortars of lesser caliber, anti-tank guns, landmines, anti-aircraft missiles, etc. Some of the most common materials used in the manufacturing of these weapons include polymers and steel.
What Are The Key Factors Driving The Global Light Weapons Market?
The expanding defense sector is primarily driving the light weapons market. Additionally, the widespread adoption of precision-guided firearms with advanced features, such as fire control, targeting, and advanced head-up display technologies, is further bolstering the market growth. Besides this, the rising number of contracts for light weapons from military forces and homeland security, the low production cost of the product, and the inflating defense expenditure capacities of government bodies are acting as significant growth-inducing factors.
Moreover, continuous improvements in weapon manufacturing, such as the introduction of numerous anti-tank missiles, the growing integration of laser systems with light cannons, and the increasing utilization of Artificial Intelligence (AI) features, are positively influencing the global market. Apart from this, the elevating prevalence of cross-border disputes, terrorism, and political unrest between neighboring countries is also stimulating the market growth. Furthermore, extensive investments in R&D activities by key market players are anticipated to fuel the light weapons market over the forecasted period.
𝐑𝐞𝐪𝐮𝐞𝐬𝐭 𝐅𝐨𝐫 𝐒𝐚𝐦𝐩𝐥𝐞 𝐑𝐞𝐩𝐨𝐫𝐭: https://www.imarcgroup.com/light-weapons-market/requestsample
Report Segmentation:
The report has been segmented the market into following categories:
Breakup by Type:
• Heavy Machine Guns (HMGs)
• Grenades and Grenade Launchers
• Mortars
• Man-portable Anti-tank Systems (MANPATS)
• Man-portable Air Defense Systems (MANPADS)
• Others
Breakup by Technology:
• Guided
o Laser Guided
o Infrared Guided
o Satellite Guided
o Semi-automatic Command to Line of Sight
• Unguided
Breakup by Application:
• Defense
• Homeland Security
By Geography:
• North America (United States, Canada)
• Europe (Germany, France, United Kingdom, Italy, Spain, Others)
• Asia Pacific (China, Japan, India, Australia, Indonesia, Korea, Others)
• Latin America (Brazil, Mexico, Others)
• Middle East and Africa (United Arab Emirates, Saudi Arabia, Qatar, Iraq, Other)
Competitive Scenario with Key Players:
• BAE Systems plc
• FN Herstal (Herstal Group)
• General Dynamics Corporation
• Heckler & Koch GmbH
• Israel Aerospace Industries Ltd.
• Lockheed Martin Corporation
• Raytheon Technologies Corporation
• Rheinmetall AG, Saab AB
• and Thales Group.
𝐂𝐥𝐢𝐜𝐤 𝐇𝐞𝐫𝐞 𝐭𝐨 𝐕𝐢𝐞𝐰 𝐃𝐞𝐭𝐚𝐢𝐥𝐞𝐝 𝐈𝐧𝐟𝐨𝐫𝐦𝐚𝐭𝐢𝐨𝐧 𝐰𝐢𝐭𝐡 𝐓𝐚𝐛𝐥𝐞 𝐨𝐟 𝐂𝐨𝐧𝐭𝐞𝐧𝐭: https://www.imarcgroup.com/light-weapons-market
𝐁𝐫𝐨𝐰𝐬𝐞 𝐎𝐭𝐡𝐞𝐫 𝐈𝐧𝐝𝐮𝐬𝐭𝐫𝐲 𝐑𝐞𝐬𝐞𝐚𝐫𝐜𝐡 𝐑𝐞𝐩𝐨𝐫𝐭-
Global Aerospace Engineering Services Outsourcing Market- https://www.imarcgroup.com/aerospace-engineering-services-outsourcing-market
Global Aerospace Materials Market Report- https://www.imarcgroup.com/aerospace-materials-market
Global Military Transport Aircraft Market Report- https://www.imarcgroup.com/military-transport-aircraft-market
Key Highlights of The Report:
• Market Performance (2017-2022)
• Market Outlook (2023- 2028)
• Porter's Five Forces Analysis
• Market Drivers and Success Factors
• SWOT Analysis
• Value Chain
• Comprehensive Mapping of the Competitive Landscape
If you need specific information that is not currently within the scope of the report, we can provide it to you as a part of the customization.
About Us:
IMARC Group is a leading market research company that offers management strategy and market research worldwide. We partner with clients in all sectors and regions to identify their highest-value opportunities, address their most critical challenges, and transform their businesses.
IMARC's information products include major market, scientific, economic and technological developments for business leaders in pharmaceutical, industrial, and high technology organizations. Market forecasts and industry analysis for biotechnology, advanced materials, pharmaceuticals, food and beverage, travel and tourism, nanotechnology and novel processing methods are at the top of the company's expertise.
Elena Anderson
IMARC Services Private Limited
+1 631-791-1145
email us here