CM Siddaramaiah keeps finance, G Parameshwara gets home: Who got what in new Karnataka cabinet | India News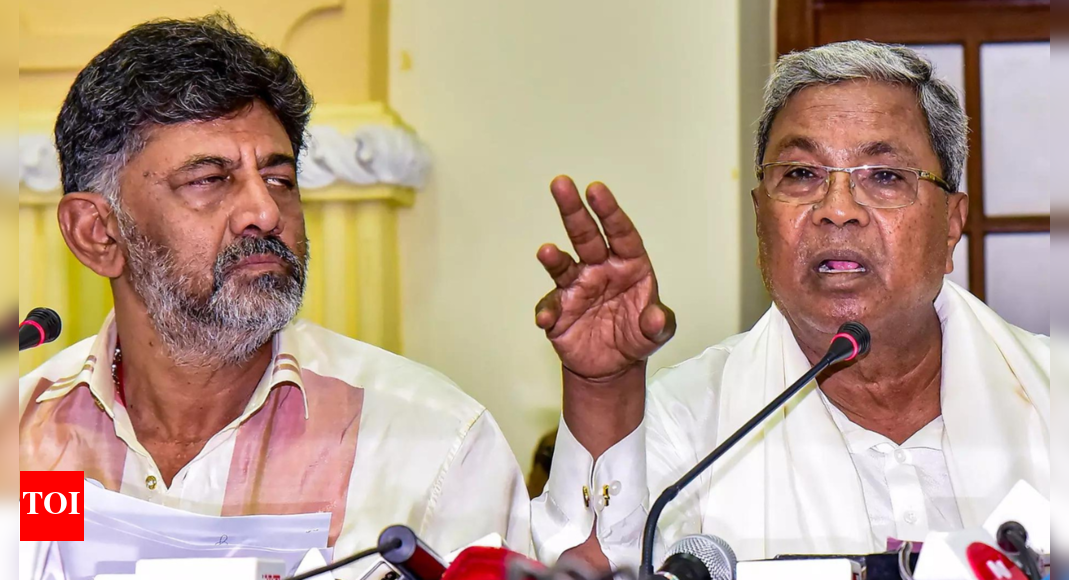 NEW DELHI: The new expanded Karnataka cabinet comprising 34 ministers were assigned their portfolios on Saturday with chief minister Siddaramaiah keeping 5 key ministries for himself. His deputy, D K Shivakumar, has been given two ministries: irrigation and Bengaluru development.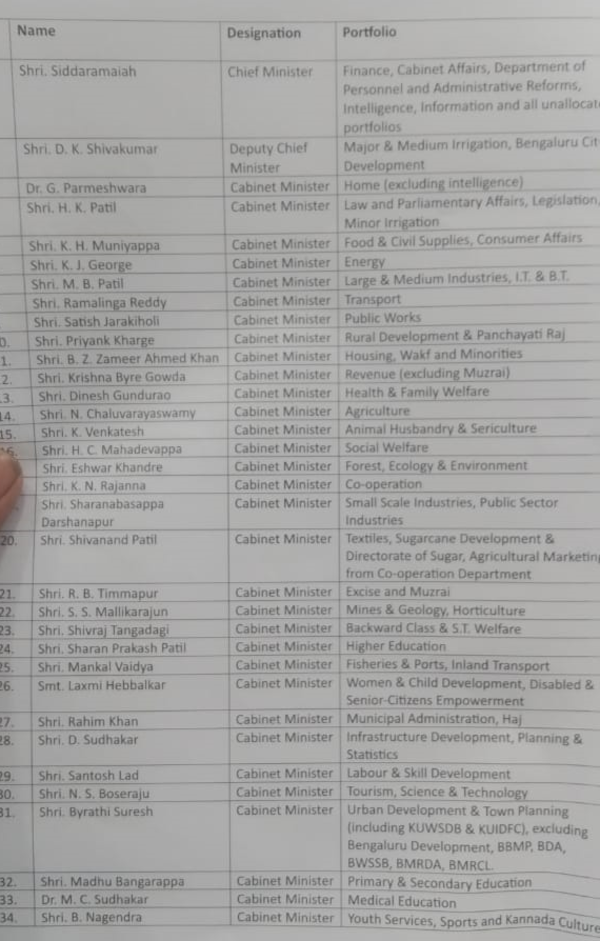 The CM has kept the ministries of finance, cabinet affairs, personnel and administrative reforms, intelligence, information, and other unallocated portfolios.
Senior Congress leader G Parameshwara has been given the home ministry while Congress chief Mallikarjun Kharge's son Priyank Kharge has been given the ministry of Rural Development and Panchayati Raj.
HK Patil has been allotted Law & Parliamentary Affairs, Dinesh Gundu Rao has been given Health & Family Welfare, and Krishna Bayre Gowda has been allotted Revenue (Excluding Muzrai).
The caste breakdown of the final list of ministers includes eight Lingayats, seven from Scheduled Caste communities, five Vokkaligas, two Muslims, three from Scheduled Tribe communities, six from Other Backward Classes groups, one Maratha, one Brahmin, one Christian, and one Jain.
High-level deliberations
The new cabinet was expanded to its limit of 34 after the swearing-in of 24 ministers at Raj Bhavan on Saturday. This number includes the CM and his deputy, who were sworn in last week along with 8 other legislators.
The selection of ministers was done after several rounds of high-level consultations with the party high command in Delhi. Both Siddaramaiah and Shivakumar held meetings with Kharge in Delhi as well as state in-charge Randeep Surjewala and party general secretary KC Venugopal.
Dr H C Mahadevappa has been given the Social Welfare ministry. He is an MBBS doctor from JJM Medical College. Belonging to the Scheduled Caste community, the 70-year-old MLA from T Narasipur was previously with the JD(S) and switched over to the Congress. He was the Public Works Minister in the previous Siddaramaiah government.
New blood
Many of the new cabinet ministers have no prior ministerial experience.
N S Boseraju, a Congress national secretary who is neither a member of the legislative council or the legislative assembly, has been given the ministries of Tourism and Science & Technology. He is considered to be close to the Congress high command and his candidature was reportedly finalised at the last minute after much debate.
MLA from Ballari constituency B Nagendra has been given the Sports and Kannada Culture ministries. He is considered a 'giant killer' as he defeated former minister B Sriramulu in the recently concluded assembly election.
Laxmi Hebbalkar, a 48-year-old MLA from Belagavi rural, has been allotted the Women and Child Welfare ministry. She won from the constituency for the second time and is considered to be close to deputy CM Shivakumar.