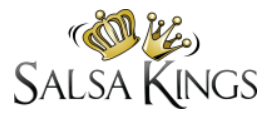 The Bachata is not only exciting, good times and enjoyable but also a good workout.
COOPER CITY, FLORIDA, UNITED STATES, August 8, 2023/EINPresswire.com/ — There are many exciting and fun reasons why the Bachata is so hot in Latin nightclubs across Florida and all over the world. In addition to the high-energy enjoyment and socializing, Bachata is a terrific workout! It is good for the dancer's cardiovascular, torso, and legs, a great way to lose weight and improve self-esteem and confidence.
As with the Salsa and other popular dance moves, the talent, energy, and people skills of the instructor are important to make it happen. So, it is exciting news that Atlee Sharpe will lead the Bachata Program at the Salsa Kings' Cooper City Dance School.
"Atlee is terrific, dynamic, motivating, and delightful," raves Andres Fernandez, owner, and company spokesperson for Salsa Kings. "She trained under Jeannette Fiallo at Salsa Kings and is fully certified by Daniel and Desiree, in the complete Bachata instructors' program. I know Bachata students will enjoy the experience at our Salsa Kings' Cooper City Dance School," he says with enthusiasm.
The terrifically popular Salsa Kings is in its 26th year of dance lessons. Fernandez is upbeat and proud that all Salsa Kings instructors are friendly and skilled professionals, certified by the World Salsa Federation, and World Champions in the Salsa and Bachata Cabaret divisions.
He explains that, while every culture has its own groove to the beat, the Bachata is a sensation started by Dominicans. A way to express their joy, pain, and suffering. The dance follows a sequence of three to-the-beat steps, characterized by the tap on the fourth beat. The movement focuses on the lower half of the body: the feet, legs, and hips.
"Our new Cooper City, Florida dance studio—-and Atlee's dynamic skill and professionalism—are proof that Bachata and Salsa dancing is not only exciting good times and fun but also a good workout," Fernandez points out.
For more information, please visit www.facebook.com/salsakings/
and https://instagram.com/atlee_oficial/
###
About Salsa Kings
Salsa Kings' mission is to train, recruit, and unite dance talent and entrepreneurs from all over the world to provide a global, loving, all-style dance culture that offers first-rate instruction, unforgettable events, premium dance supplies, paramount showcases, and more income opportunities in the arts to the masses.
Contact Details:
Miami Location:
13944 SW 8th St #204
Miami FL 33184
United States
Cooper City Location:
12323 SW 55th St #1010
Cooper City FL 33330
United States
Weston Location:
inside Harmony Dance Academy
16646 Saddle Club Rd
Weston, FL 33326
United States
Andres Fernandez
Salsa Kings
+1 305-553-0555
email us here
Visit us on social media:
Facebook
Twitter
LinkedIn
YouTube