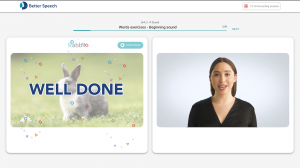 SANFORD, N.C., USA, August 8, 2023/EINPresswire.com/ — Better Speech, the premier provider of online speech therapy in the U.S., with 150+ speech therapists, is thrilled to announce the launch of Jessica – a groundbreaking AI Speech Therapist.
Better Speech's AI Speech Therapist assistant utilizes cutting- edge artificial intelligence to provide personalized speech therapy sessions tailored to each client's needs. Jessica is available 24/7, from any device, using an avatar of the client's choice, making speech therapy more engaging, convenient, and affordable.
Jessica leverages advanced speech recognition and natural language processing capabilities to accurately assess speech patterns, identify areas for improvement, and deliver targeted interventions.
Ranan Lachman, CEO of Better Speech, said, "We are incredibly proud to be the first to introduce an AI Speech Therapist to the world. This revolutionary technology should transform the lives of millions by making high-quality speech therapy accessible and convenient to many people who currently can't afford speech therapy. We are working with ASHA (American Speech and Hearing Association) to help develop Category III medical insurance codes to bring this technology to more patients. In addition, and as part of our mission to enable everyone to communicate at their best, we'll be gifting Jessica to 1,000 children in underdeveloped countries who don't have access to speech therapy."
Lachman further emphasized the advantages of the AI Speech Therapist assistant, saying, "Our software is designed to augment our service and serve as a practicing tool, not to replace our Speech Therapists. We have no doubt that, soon, Jessica will become the best speech therapist in the world, being trained on tens of thousands of patients, from children to seniors, and would be able to assist with most speech impediments. By learning and improving with each patient, and then personalizing the therapy, we would provide individuals with an engaging, convenient and affordable therapy from the comfort of their own homes."
With the launch of Jessica, Better Speech is poised to revolutionize the field of speech therapy and empower individuals to improve their communication skills with unprecedented ease and effectiveness.
For more information about Jessica, the AI Speech Therapist, please visit

https://www.betterspeech.com/jessica
For partnership/investment opportunities, please email partnership@betterspeech.com
About Better Speech

Better Speech is the leading provider of Online Speech Therapy for individuals, schools, and healthcare organizations. Through cutting-edge technology and personalized interventions, the service is providing high-quality speech therapy accessible and affordable to everyone.

Get a better speech today at www.betterspeech.com

Source: Better Speech
Ranan Lachman
Better Speech
email us here
Visit us on social media:
Facebook
LinkedIn
Instagram
YouTube
TikTok