Bio-Lubricants Market Size 2023-2028, Industry Analysis by Base Oil Type, Application and End-Use Industry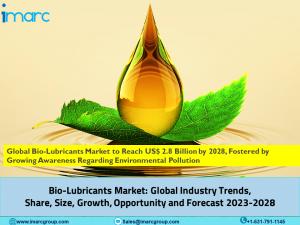 BROOKLYN, NY, USA, August 7, 2023/EINPresswire.com/ — The latest report published by IMARC Group, titled "Bio-Lubricants Market: Global Industry Trends, Share, Size, Growth, Opportunity and Forecast 2023-2028", offers a comprehensive analysis of the industry, which comprises insights on the market share. The report also includes competitor and regional analysis, and contemporary advancements in the market.
Market Overview:
The global bio-lubricants market size reached US$ 2.2 Billion in 2022. Looking forward, IMARC Group expects the market to reach US$ 2.8 Billion by 2028, exhibiting a growth rate (CAGR) of 3.9% during 2023-2028.
Bio-lubricants, also known as biodegradable lubricants, are environmentally friendly lubricants derived from renewable sources like vegetable oils, animal fats, or synthetic esters. These lubricants are designed to reduce environmental impact by being biodegradable and non-toxic. They offer excellent lubrication properties, high thermal stability, and improved viscosity index compared to conventional petroleum-based lubricants. Bio-lubricants are renewable, sustainable, and comply with stringent environmental regulations. Their characteristics include biodegradability, reduced carbon footprint, and compatibility with existing lubrication systems. These eco-friendly lubricants are gaining popularity in various industries as they contribute to environmental preservation and promote sustainable practices.
Request for a Free Sample Copy of this Report: https://www.imarcgroup.com/bio-lubricants-market/requestsample
Bio-Lubricants Market Trends:
The increasing demand for bio-lubricants and rising awareness of their environmental benefits significantly contribute to the market's growth. As more industries and consumers prioritize sustainability and environmental consciousness, the demand for bio-lubricants has witnessed a notable surge. Bio-lubricants offer several advantages, including biodegradability, reduced carbon footprint, and lower toxicity, making them an attractive option for environmentally responsible businesses and individuals. The growing emphasis on environmental regulations and sustainable practices also fuels the market, with industries seeking lubricants that comply with stringent environmental standards.
Bio-lubricants meet these requirements and offer a viable solution for reducing the impact of lubricants on ecosystems and natural resources. Technological advancements in bio-lubricant formulation and production are also driving market growth. Manufacturers are continuously innovating and developing advanced bio-lubricants with improved performance characteristics, such as higher viscosity index and better thermal stability. These enhancements have attracted more industries to opt for bio-lubricants in various applications. Moreover, the biodegradable nature of bio-lubricants is appealing to industries seeking to minimize their environmental impact. Unlike conventional lubricants, which may contribute to soil and water pollution when leaked or disposed of improperly, bio-lubricants break down naturally, reducing the risk of environmental harm.
The increasing prevalence of sustainability-conscious consumer segments, as well as corporate social responsibility initiatives, has further propelled the demand for bio-lubricants. Industries and businesses that prioritize sustainable practices are choosing bio-lubricants as part of their commitment to environmental stewardship. Additionally, the COVID-19 pandemic has influenced the market for bio-lubricants. With increased health and safety concerns, consumers and industries have shown a preference for eco-friendly and sustainable products, including lubricants. The pandemic has heightened the awareness of the interconnectedness between human health and environmental well-being, leading to a rise in demand for bio-lubricants.
The market for bio-lubricants is witnessing significant growth as well in the form of service-based offerings. Many lubricant manufacturers and distributors offer comprehensive support and consultation services to industries transitioning to bio-lubricants. This service-oriented approach offers industries guidance on selecting the appropriate bio-lubricants for their specific applications, enhancing the value and attractiveness of bio-lubricant solutions. The market's outlook remains promising as more businesses and individuals recognize the importance of adopting eco-friendly and biodegradable lubricants to support a greener and more sustainable future.
Bio-Lubricants Market 2023-2028 Competitive Analysis and Segmentation:
Competitive Landscape With Key Players:
The competitive landscape of the bio-lubricants market has been studied in the report with the detailed profiles of the key players operating in the market.
Some of these key players include:
• Albemarle Corporation
• BP Plc
• Chevron Corporation
• Emery Oleochemicals
• Exxon Mobil Corporation
• Fuchs Petrolub SE
• Klüber Lubrication München SE & Co. KG (Freudenberg Chemical Specialities SE & Co. KG)
• Panolin AG
• Polnox Corporation
• Quaker Chemical Corporation
• Royal Dutch Shell PLC
• Total SE
Key Market Segmentation:
The report has segmented the global bio-lubricants market based on base oil type, application, end use industry and region.
Breakup by Base Oil Type:
• Vegetable Oils
• Animal Fats
Breakup by Application:
• Hydraulic Fluids
• Metalworking Fluids
• Chainsaw Oils
• Mold Release Agents
• Two-Cycle Engine Oils
• Gear Oils and Greases
• Others
Breakup by End Use Industry:
• Power Generation
• Automotive
• Heavy Equipment
• Food & Beverage
• Metallurgy & Metalworking
• Chemical Manufacturing
• Others
Breakup by Region:
• North America
• Asia-Pacific
• Europe
• Latin America
• Middle East and Africa
Ask Analyst for Customization and Explore Full Report With TOC & List of Figures: https://www.imarcgroup.com/request?type=report&id=3121&flag=C
Key Highlights of the Report:
• Market Performance (2017-2022)
• Market Outlook (2023-2028)
• Market Trends
• Market Drivers and Success Factors
• Impact of COVID-19
• Value Chain Analysis
• Comprehensive mapping of the competitive landscape
If you need specific information that is not currently within the scope of the report, we will provide it to you as a part of the customization.
Related Reports by IMARC Group:
Transmission Fluids Market Free Sample Report
Biostimulants Market Free Sample Report
Used Car Market Free Sample Report
About Us
IMARC Group is a leading market research company that offers management strategy and market research worldwide. We partner with clients in all sectors and regions to identify their highest-value opportunities, address their most critical challenges, and transform their businesses.
IMARC's information products include major market, scientific, economic and technological developments for business leaders in pharmaceutical, industrial, and high technology organizations. Market forecasts and industry analysis for biotechnology, advanced materials, pharmaceuticals, food and beverage, travel and tourism, nanotechnology and novel processing methods are at the top of the company's expertise.
Our offerings include comprehensive market intelligence in the form of research reports, production cost reports, feasibility studies, and consulting services. Our team, which includes experienced researchers and analysts from various industries, is dedicated to providing high-quality data and insights to our clientele, ranging from small and medium businesses to Fortune 1000 corporations.
Elena Anderson
IMARC Services Private Limited
+1 631-791-1145
email us here