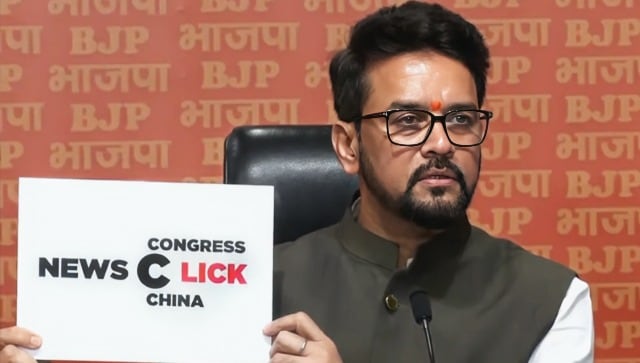 The Bharatiya Janata Party (BJP) on Monday launched a scathing attack on Opposition Congress, with Union Minister Anurag Thakur calling China, Congress, and NewsClick (a news portal) "part of one umbilical cord".
Addressing a press conference following a report in The New York Times alleging a global nexus of spreading Chinese propaganda, Thakur demanded Congress MP Rahul Gandhi "come clean" about his and his party's connections with China.
The New York Times, in a report, named NewsClick and alleged that it was part of the global network that received funding from China-based American tech mogul Neville Roy Singham, who is reportedly involved with the Chinese government.
"In New Delhi, corporate filings show, Singham's network financed a news site, NewsClick, that sprinkled its coverage with Chinese government talking points. 'China's history continues to inspire the working classes,' one video said," NYT said in its investigation, report.
BJP's 10 charges against Congress
1- "In 2021, we exposed NewsClick as to how foreign propaganda is against India. In this anti-India campaign, Congress and other opposition parties came in their support… Chinese companies were funding NewsClick through Mogul Neville Roy Singham but their salesmen were some people from India, who came in their support when action was taken against them…" said Anurag Thakur
2- "The Congress and its allies had come in support of NewsClick when we had flagged the issue. They used to say that the Government of India is working against the freedom of press," Thakur said
3- "The money that came to NewsClick was given to Gautam Navlakha, an accused in the Bhima Koregaon case, charged under UAPA. When the ED works against NewsClick, they (Opposition) raise questions against it. It is a war against misinformation and this war should continue," the Union Minister said
4- "The entire Congress was defending News Click. Have they stooped this low in their hunger for power? From 1962 to 2023, Congress has not changed a bit," Thakur said
5- "When there was Olympics, Sonia, Rahul and the Gandhi family were invited. They visited China. 'Khel dekhne gaye thy, Khel kar ke aa gaye'. They signed an agreement there in which there was a decision taken on high-level exchange between the two parties, Anurag Thakur said
6- "It is being said that when the agreement was inked in 2008, a payment was also made to the Rajiv Gandhi Foundation. The agreement was signed by Xi Jinping and Rahul Gandhi," the Union Minister said
7- "Rahul Gandhi was with Chinese diplomats when Doklam happened," Thakur said
8- "In Rahul Gandhi's 'Nakli Mohabbat Ki Dukaan' Chinese goods can be seen clearly. His love for China can be seen. They were running an anti-India agenda," Thakur added
9- "This anti-India, 'break India' agenda will not work," Thakur said, adding, "The Congress hasn't changed yet… Soros se Singham, China to Congress… these are alliance partners with anti-India agenda"
10- "We had seen in Cambridge how Rahul Gandhi praised China… The Indian American Muslim Council, which hosted Rahul Gandhi, was also in support of NewsClick. Many senior journalists have also got the money to propagate China's agenda," Thakur said.
Union Minister of State for Entrepreneurship, Skill Development, Electronics & Technology Rajeev Chandrasekhar who was also present at the press conference said: "This is not new revelation…We have been speaking about it for many years…Many accounts were suspended in the past who were trying to destabilise India. They fan a consistent narrative and the same narrative being spread by a leader called Rahul Gandhi. This a conspiracy to oppose India's growing presence in every aspect of development."
With inputs from agencies