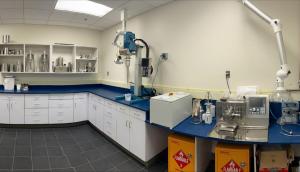 Schedule Premier Laboratory and dispersion specialist for solutions to your dispersion challenges.
Andreas Stummer, Dispersion Business Line Manager, BYK-Gardner USA
Schedule Demonstrations, Trials and Webinars with Dispersion Specialists
This premier laboratory is extremely advantageous for customers' hands-on demonstrations, training, and trials while utilizing our expertise for solutions to the challenges they face."
— Andreas Stummer, Dispersion Business Line Manager, BYK-Gardner USA
COLUMBIA, MARYLAND, UNITED STATES, August 8, 2023/EINPresswire.com/ — BYK-Gardner USA – worldwide partner of the automotive, paint and plastics industries for quality control of color, appearance and physical properties – announces the availability of its premier dispersion laboratory in Wallingford, CT.
The BYK-Gardner VMA Dispersion Laboratory in Wallingford, Connecticut at the BYK Additives Research Facility is a premier laboratory facility with the capability to perform product dispersion and bead mill demonstrations for a wide-variety of markets. Ranging from inks and coatings to battery development, cosmetics, food and pharma, as well as emerging markets such as 3D print media and CBD health applications.
Working together with clients, the dispersion specialists will review the formulations and optimize the dispersion process to meet the project objectives. Our involved development and design team comes with innovative ideas and long-term experience in the mixing, dispersing and grinding technology. Due to the synergies with BYK Additives our team is able to not only provide solutions to the best dispersing and milling equipment choices but also leverage the additives knowledge of our colleagues.
What Benefits does the BYK Wallingford Dispersion Lab Offer?

The ability to evaluate different types of laboratory dissolvers and milling tools as well as measuring the results such as final particle size, particle size distribution, viscosity, and other physical and optical properties of your product.
Benefits and Capabilities

• Demonstrations of product performance, flexibility and accessories

through a variety of milling techniques

• Scale-up capability for customers interested in large equipment

• Leverage synergies between our instrument and additive business

• Showroom with the latest milling and dispersing equipment

• Milling and dispersing training and seminars

• Expertise of dispersion specialists
We would be pleased to show you the impressive work section of our dispersers, mixers, stirrers bead mills and basket mills for dispersing, mixing, stirring, homogenizing and fine grinding up to the nanoscale. Our skilled engineers are available at any time for personal consultations. Our facility is located at 524 South Cherry Street, Wallingford, CT 06492 USA.
Sherri B Thompson
BYK-Gardner USA | Paul N. Gardner Company
+1 954-623-5817
email us here
Visit us on social media:
Facebook
Twitter
LinkedIn
YouTube
Wallingford, CT Dispersion Laboratory Quick Look