PROVO, Utah — Much like every football building in the country, the walls outside BYU's meeting rooms and coaches offices are filled with iconography from past triumphs.
Many of the school's great quarterbacks are framed in their element dropping back or holding up a trophy. Legendary former head coach LaVell Edwards is a constant presence, as are highlights from his era when the Cougars were regularly regarded as one of the best teams out West. Major defensive plays etched into program lore dot the walls, several of which naturally draw upon games involving the storied 'Holy War' against rival Utah.
Unsurprisingly, there is plenty to draw from under the team's current head coach Kalani Sitake, too, as the team is constantly reminded of the connections between distant past, recent success and their current moment in college football with one long walk down a hallway. One of the most easily recognizable pictures of recent vintage features celebrating BYU players running past several dejected USC players from the team's overtime win against the Trojans in Provo four years ago.
Though there are still a handful of players around the building who were on the field that sunny pre-pandemic Saturday, Kedon Slovis has wildly different memories of the game displayed in that image compared to any of his current teammates. That's because this season's starting quarterback for the Cougars was wearing cardinal and gold at the time and threw a tipped pass that wound up becoming the game-sealing interception in overtime.
"When we first played him, he just had this poise and savviness to him. It was unique. For a young guy, we were like, man, he's going to be dangerous," says Sitake, recounting the game as he shook his head and let out a chuckle. "I think we caught him at the right time."
Slovis wound up throwing for 3,502 yards and 30 touchdowns that season, setting the NCAA single-season record for completion percentage by a freshman in the process. It was a star turn from seemingly out of nowhere at the now-outgoing Pac-12 power, an unheralded recruit from the Phoenix area being thrust into the starting lineup who wound up becoming one of the top passers in the country.
Few expected the young signal-caller to even see the field much initially for the Trojans, especially not for any meaningful snaps given the presence of former five-star JT.Daniels as the incumbent behind center. However, Daniels suffered a season-ending knee injury in the opener and Slovis, who in high school was known mostly for being coached by Hall of Famer Kurt Warner, was instantly thrown into the fire by an embattled coaching staff feeling pressure to win and win big.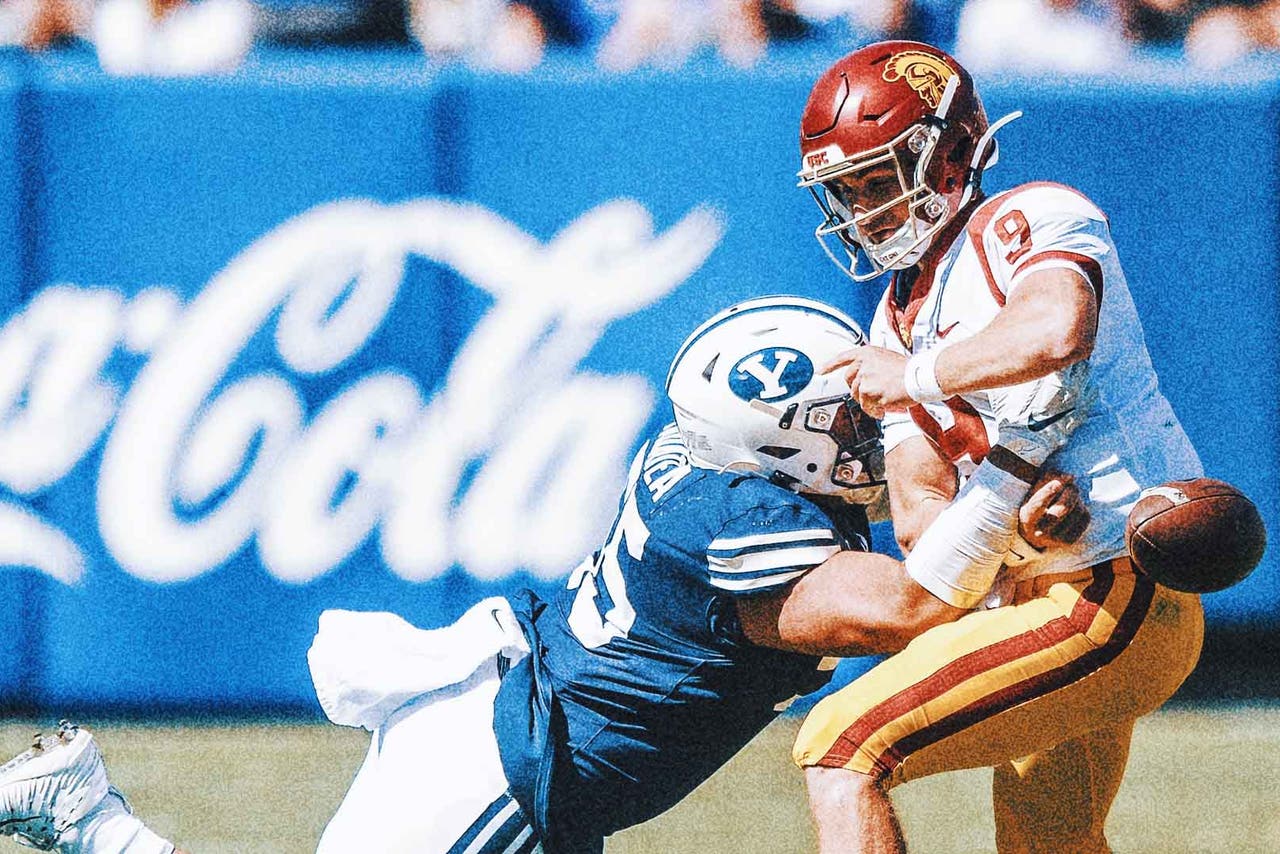 BYU defensive lineman Lorenzo Fauatea (55) forces then-USC quarterback Kedon Slovis into a fumble during their meeting on Sept. 14, 2019. (Photo by Boyd Ivey/Icon Sportswire via Getty Images)
Yet despite setting a USC school record for passing yards in a player's first start, Slovis discovered that adversity as a college player is never far behind. He ended up throwing three interceptions against the Cougars during that 2019 loss, showing flashes of a strong arm and plenty of potential, but also some of the negatives of being a gunslinger in his first career road start.
Now, in a bit of a full circle moment for the fifth-year senior, he'll lead BYU out for its first official game as a Big 12 program at the same LaVell Edwards Stadium where he was first humbled as a college football player.
"There's a certain energy here. Like I don't know if it's happy-go-lucky or just constant optimism," said Slovis, gushing about his new home on an unusually cool summer day on the Wasatch Front that the school is nestled under. "Guys take so much pride in the 'Y' and they have so much confidence in themselves, in the teammates around them. It's almost like this brotherhood that's a tight-knit circle. And within that circle, there's a belief that I haven't really been around."
When he trots out onto the field against Sam Houston State on Sept. 2 (10:15 p.m. ET on FS1 and the FOX Sports app), it's also believed that Slovis will become just the second-ever quarterback to start for BYU after previously making a start under center at another FBS school.
Emblematic of this current era the sport finds itself in, he'll also become the first to have made starts for two different schools before donning the Cougars uniform given that he had left USC to play for Pitt last season.
"There was so, so much uncertainty going into that decision. I was confident in knowing I wanted to make this decision, but I wasn't sure how it would work out," Slovis stated about his second trip through the transfer portal this offseason. "But I think having all the things set in place — having (offensive coordinator Aaron Roderick) as a stable thing, having coach Sitake as a stable thing — having their confidence in me, just maybe allowed me to kind of embrace it to a new level.
"It was way easier (transferring) than the first time. I feel like the first time I went into it without a plan. I didn't think I knew what I wanted but, looking back now, I think I wanted different things. I thought other things were less important, and I took other considerations and factors into play."
It's a perspective shaped by the rollercoaster ride he found himself on during a turbulent time for the sport in general and for a quarterback who wound up just trying to make it to the next game. Between the impact of COVID-19 dampening a Pac-12 South title as a sophomore to an injury-filled junior year that ended up with the dismissal of head coach Clay Helton, Slovis' final two seasons with the Trojans did not go the way he nor the program expected after such an impressive debut campaign.
On paper, the fresh start offered by a move to Pitt was full of upside. The Panthers were coming off an ACC championship and had an attractive opening after seeing Kenny Pickett turn into a first-round NFL quarterback. A host of returnees were back for another title chase, and Jordan Addison, the reigning Biletnikoff Award winner, provided reason enough to make the cross-country transfer for a signal-caller eyeing aspirations of reaching the next level.
Though the team eventually won nine games, the reality of the situation was far different from what was expected when Slovis moved East in early January. 
Offensive coordinator Mark Whipple left for Nebraska and was ultimately replaced by Frank Cignetti Jr., whose offense averaged 10 fewer pass attempts per game than the 40 tosses every contest under Whipple. Addison, after initially committing to a return to Pitt, found himself taking the return flight of his new quarterback to join Lincoln Riley and Caleb Williams at USC just as the portal closed.
Slovis, who was knocked out of an overtime loss to Tennessee in Week 2 and battled injuries much of the rest of the season, wound up completing just 59% of his passes with 10 touchdowns and nine interceptions.
"Although the numbers might not be what I wanted, and we might not have thrown the ball a ton, there was still a ton of growth and things I thought I improved at," Slovis reflected. "Even though it wasn't the ideal situation and I ended up transferring from it, you could still take away a lot from it. I feel like I learned a lot."
Still, there was something nagging at Slovis and those close to him at how it had all transpired. A promising career started off well but statistically regressed each season. Injuries ensured he never returned home for Christmas fully healthy. The whispers of "what if" and "what's next" swirled as the Panthers regular season came to a close. 
The door to the NFL would have naturally been next — and remained ajar with a Senior Bowl invite sent his way — as scouts were still enamored with his size and arm. But there was still something to be said for being able to end things on a high note, so he chose to take advantage of his extra seasons of eligibility due to COVID and make the most of a return to the West. 
The sub-par numbers at Pitt did not scare off suitors, once Slovis re-entered his name into the transfer portal. Several major programs, particularly in his old Pac-12 stomping grounds, reached out almost immediately expressing serious interest.
Yet it was the newest member of the Power 5 that had a unique angle to Slovis: His personal quarterbacks coach for the past few years was ex-Cougars star John Beck, who Slovis had come to know by way of Zach Wilson — the same signal-caller who was on the opposite sideline of that 2019 showdown.
While working with Beck during summer workouts in Southern California, Slovis wound up throwing alongside Jaren Hall, the guy he would eventually replace.
"It's definitely a business decision. It's definitely the best thing for me to go to the next level and to develop as a player," Slovis said of his decision to commit last December. "But I think also, for me emotionally and personally, I wanted to have an opportunity to kind of have control over my situation to just enjoy and feel really confident about my season going into the next level."
"I really like the fact that when we told him, hey, this isn't a guaranteed starting spot — you have to come here to compete. He didn't even bat an eye. He's like, 'let's go,'" added Sitake, who named Slovis the starter in the spring and took him to Big 12 Media Days in July.
"It's felt like he's always been here and that he's already been developed in our program. Now we're at the point where it's his team to take over. The team, it's like he's their big brother. It's an interesting thing in that it happened so quick, but it was so organic and natural. That is something that's real there."
As one of nearly 60 newcomers to the program this year, the veteran quarterback is far from the only one getting to know his new teammates both on and off the field. Still, with a nod to team bonding, Slovis noted that he's played more basketball than he has in years — lightly, he says with a laugh in a nod to the injury risks — and has embraced the outdoors in a way that is natural to those on the team who hail from the state of Utah.
Naturally, for someone in his position, that hasn't included the famous ski resorts a half hour north of Provo, but it has been a gateway to a remarkable amount of golf the past few months. In addition to building camaraderie one foursome at a time, it's allowed Slovis to establish relationships with teammates who are in a very different stage of life but find themselves working toward a common goal this fall.
Forming such deeper connections is something that Slovis hopes will pay dividends as the program embarks on a conference slate for the first time in over a decade. Not only is the new quarterback expected to navigate a tricky schedule that includes games at Texas and at TCU, but which also includes a non-conference trip to Arkansas.
On top of all that however, the QB is still expecting to efficiently operate an offense that averaged 31.3 points per game last year and, ideally, elevate it further with the return of key pieces like receiver Kody Epps and tight end Isaac Rex.
"It's weird because it's almost a combination of everything. It's a little bit of a combination of the Air Raid, combination of the West Coast stuff, but it's still the OG BYU offense that kind of started that stuff," said Slovis. "Frankly, it's pretty similar conceptionally to the Air Raid stuff (I ran at USC) but the thing that I love about it, the difference compared to Pitt, is we're super aggressive."
Such assertiveness is something that flows from the very top of the program and is encouraged at every turn by the coaching staff, even if it may lead to some of the turnovers that proved problematic during Slovis' time at Pitt and his final year at USC. Roderick in particular has motivated his new pupil into taking more chances during spring practice and during the early stages of fall camp.
Sitake, despite being largely a defensive-minded coach, has even harped on making more tight-window throws to make not just a better quarterback, but a more capable one when it comes to winning big games.
It's an environment that has successfully produced two NFL quarterbacks in recent years, and there is optimism around the Beehive State that Slovis will make it a trio.
"He's got such great qualities, and I know a lot of the coaches that worked with him, so I really am thankful for that," an excited Sitake said. "But I'm glad I got him on his last year of eligibility because I think he can do some really special things."
Special enough, perhaps, to replace an old photo on the walls and turn a former setback for his quarterback into a new highlight worth celebrating well beyond Provo.
Bryan Fischer is a college football writer for FOX Sports. He has been covering college athletics for nearly two decades at outlets such as NBC Sports, CBS Sports, Yahoo! Sports and NFL.com among others. Follow him on Twitter at @BryanDFischer.
FOLLOW
Follow your favorites to personalize your FOX Sports experience
---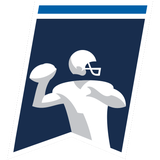 Get more from College Football Follow your favorites to get information about games, news and more
---