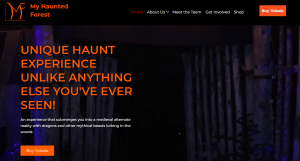 My Haunted Forest Washington Sep and Oct Events
My Haunted Forest Washington Oct Halloween Events
My Haunted Forest Washington Sep and Oct Halloween Events
Calling all parents of high school students! Embrace the spirit of Halloween with MyHauntedForest.com, one of the safest & most thrilling Halloween events in WA
VAUGHN, WASHINGTON, UNITED STATES, August 7, 2023/EINPresswire.com/ — Calling all parents of high school students! Embrace the spirit of Halloween with MyHauntedForest.com , one of the safest and most thrilling Halloween events in Washington State! As we embark on our 8th year of heart-pounding entertainment, we invite the community and the adventurous teens to join for an unforgettable experience like no other. Tickets are now available for purchase, so don't delay and get early bird discounts – secure spot at the safest haunt in town today!
**Safely Embrace the Fear**
Community and its family's safety is our top priority, and that's why MyHauntedForest.com stands out as the ultimate safe Halloween destination. As an all-outdoor walk-through haunt, we provide ample space for guests to enjoy the thrills while maintaining social distancing. We have successfully hosted thousands of visitors in previous seasons, ensuring a safe and enjoyable experience for everyone.
**Thrills and Chills Await**
Prepare to be immersed in a world of terror and excitement as MyHauntedForest unleashes its gripping theatrical production. Witness heart-stopping scares and spine-tingling surprises, all while knowing the family is in the hands of an experienced team committed to providing a secure environment for all attendees. Our captivating storyline, featuring a formidable Queen, epic battles, death, and a mysterious portal, will leave one thrilled, excited and, eager for more.
**Empowering Youth, Supporting the Community**
As parents, we understand the importance of providing our teens with opportunities to grow and thrive. MyHauntedForest is proud to employ dozens of high school students, offering them valuable work experience and references that can lead to future career opportunities. Furthermore, we believe in giving back to the community, as we organize food drives and fundraisers to support our local First Responders, setting a positive example for our young participants.
**Join a Community of Safe Thrill-Seekers**
MyHauntedForest.com not only guarantees a safe environment for ones family but also fosters a sense of community among its visitors. We have proudly sponsored and participated in various local events, engaging with our neighbors and creating lasting memories. By attending MyHauntedForest, be part of a supportive network of families seeking safe and thrilling experiences for their high school students.
**Don't Miss Out – Get The Tickets Today!**
Tickets for MyHauntedForest.com are selling fast, and this is an experience no one wants their high school students to miss. Secure the spot at the safest Halloween haunt in Washington State by purchasing tickets online now. Don't delay – the thrill awaits!
**How to Purchase Tickets**
Visit the official MyHauntedForest.com website and secure tickets today: https://www.strideevents.com/events/my-haunted-forest/2023/tickets
For more information, interviews, or media inquiries, please contact:
Mark Dodson at: markdodson3@hotmail.com or Call 253-617-4317
About MyHauntedForest:

MyHauntedForest, the largest and one of the most exciting Haunted Forests in Washington State, has been thrilling audiences for eight years. With a captivating storyline, live scares, and a commitment to community engagement, MyHauntedForest remains the ultimate Halloween destination for families seeking safe thrills.
Mark Dodson
MyHauntedForest
+1 253-617-4317
markdodson3@hotmail.com
Visit us on social media:
Facebook
Twitter
Instagram
YouTube
TikTok
Other