First Response HVAC Emerges as the Premier Air Conditioning and Heating Contractor in the San Tan Valley of Arizona
First Response HVAC Logo
First Response Air Conditioning Repair and Maintenance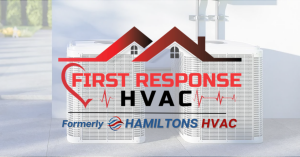 First Response Air Conditioning Installation and Replacement
First Response HVAC, Formerly Hamiltons HVAC, Emerges as the Premier Air Conditioning and Heating Contractor in the San Tan Valley of Arizona
Our mission is to become the most trusted name in the East Valley for your residential and commercial HVAC needs!"
— Mike
SAN TAN VALLEY, ARIZONA, UNITED STATES, August 7, 2023/EINPresswire.com/ — The San Tan Valley of Arizona is a rapidly growing community in the East Valley of the Greater Phoenix Metropolitan Area. With the recent influx of new residents, businesses are stepping up to meet the needs of the community. Among these businesses is First Response HVAC, a locally owned and operated commercial and residential air conditioning contractor.
First Response HVAC is formerly known as Hamiltons HVAC and has established itself as the premier air conditioning and heating contractor in the San Tan Valley. First Response HVAC is a veteran-owned and operated business that takes pride in providing quality service to its customers.
First Response HVAC offers a wide range of services to meet the needs of its customers. Services include air conditioning and heating repair, installation, and maintenance. First Response HVAC also offers maintenance and indoor air quality services.
When it comes to finding the best local residential and commercial air conditioning contractors, there are a few key factors to should consider. First and foremost, look for a contractor who has established themselves in the area. Why is this important? An HVAC contractor who has been operating locally for a while is likely to have a good understanding of the unique climate and specific requirements of the region. They will be familiar with common issues and have experience working with different types of air conditioning systems commonly found in the area. For example, in hotter climates like Arizona, contractors specialize in servicing and installing larger AC units or have expertise in dealing with high humidity levels.
Another aspect to consider when searching for local air conditioning contractors is their reputation. Why is reputation important? Well, a contractor's reputation can give valuable insights into the quality of their workmanship and customer service. One way to gauge their reputation is by asking for recommendations from friends, family, or neighbors who have recently had their air conditioning systems serviced or installed. For instance, if someone that is trusted had a positive experience with a particular contractor, it's likely an indication of their professionalism and reliability.
If you are in need of air conditioning or heating services in the San Tan Valley, look no further than First Response HVAC. First Response HVAC is the premier air conditioning and heating contractor in the San Tan Valley and will provide you with the quality service you deserve.
Mike
First Response HVAC
+1 4804156037
email us here
Visit us on social media:
Facebook
Other