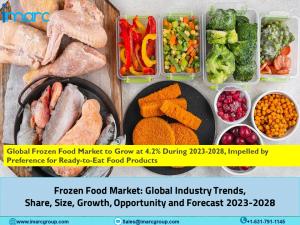 BROOKLYN, NY, USA, August 7, 2023/EINPresswire.com/ — The latest report published by IMARC Group, titled "Frozen Food Market: Global Industry Trends, Share, Size, Growth, Opportunity and Forecast 2023-2028", offers a comprehensive analysis of the industry, which comprises insights on the market trends. The report also includes competitor and regional analysis, and contemporary advancements in the market.
Market Overview:
The global frozen food market size reached US$ 242.5 Billion in 2022. Looking forward, IMARC Group expects the market to reach US$ 312.2 Billion by 2028, exhibiting a growth rate (CAGR) of 4.2% during 2023-2028.
Frozen food refers to food that is subjected to rapid freezing and is kept frozen until used. This method of food preservation slows down the decomposition process, inhibiting the growth of bacteria and preserving the food's nutritional value, taste, and quality. Frozen foods offer convenience as they can significantly reduce preparation, cooking, and cleanup time, thereby making them an appealing choice for busy lifestyles. They also offer a means of preserving seasonal fruits and vegetables, which allows for a diverse diet year-round. Innovations in freezing technology and packaging have improved the taste and texture of frozen foods, debunking the myth that frozen foods are inferior to fresh ones.
Request for a Free Sample Copy of this Report: https://www.imarcgroup.com/frozen-food-market/requestsample
Frozen Food Market Trends:
The convenience that frozen foods provide represents one of the key factors driving the growth of the market across the globe. In our fast-paced society, the ability to quickly prepare a meal is highly valued. Frozen foods require less time and effort, thus making them a preferred choice for busy individuals, working professionals, and families. Frozen foods consist of a much longer shelf life as compared to fresh and chilled foods, which reduces the frequency of shopping and helps to decrease food waste, thereby influencing the growth of the market.
The market is also driven by increasing urbanization and shifts in lifestyle patterns, especially in emerging economies, which are leading to increased demand for frozen foods. Freezing allows consumers to enjoy out-of-season fruits and vegetables throughout the year. It also ensures a steady supply of a wide range of food items, regardless of seasonality, which is contributing to the growth of the market across the globe.
Competitive Landscape With Key Players:
The competitive landscape of the frozen food market has been studied in the report with the detailed profiles of the key players operating in the market.
Some of these key players include:
• Ajinomoto Co. Inc.
• Aryzta A.G.
• Associated British Foods plc
• Bellisio Foods Inc. (Charoen Pokphand Foods)
• Cargill Incorporated
• Conagra Brands Inc.
• General Mills Inc.
• The Kraft Heinz Company
• JBS S.A.
• Jeanie Marshal Foods Ltd
• Kellogg Company
• McCain Foods Limited
• Nestlé S.A.
• Wawona Frozen Foods
Key Market Segmentation:
The report has segmented the global frozen food market based on product type, frozen vegetable snacks, frozen meat products, frozen vegetables, frozen fruits and region.
Breakup by Product Type:
• Frozen Vegetable Snacks
• Frozen Meat Products
• Frozen Vegetables and Fruits
Frozen Vegetable Snacks Breakup by Type:
• French Fries
• Bites, Wedges and Smileys
• Aloo Tikki
• Nuggets
• Others
Frozen Meat Products Breakup by Type:
• Chicken
• Fish
• Pork
• Mutton
• Others
Frozen Vegetables Breakup by Type:
• Green Peas
• Corn
• Mixed Vegetables
• Carrot
• Cauliflower
• Others
Frozen Fruits Breakup by Type:
• Strawberries
• Berries (Raspberries, Blueberries and Blackberries)
• Cherries
• Others
Breakup by Region:
• North America
• Asia-Pacific
• Europe
• Latin America
• Middle East and Africa
Ask Analyst for Customization and Explore Full Report With TOC & List of Figures: https://www.imarcgroup.com/request?type=report&id=3501&flag=C
Key Highlights of the Report:
• Market Performance (2017-2022)
• Market Outlook (2023-2028)
• Market Trends
• Market Drivers and Success Factors
• Impact of COVID-19
• Value Chain Analysis
• Comprehensive mapping of the competitive landscape
If you need specific information that is not currently within the scope of the report, we will provide it to you as a part of the customization.
Related Reports by IMARC Group:
United States Frozen Fruits and Vegetables Market Free Sample Report
Asia Pacific Frozen Fruits and Vegetables Market Free Sample Report
India Food Processing Market Free Sample Report
About Us
IMARC Group is a leading market research company that offers management strategy and market research worldwide. We partner with clients in all sectors and regions to identify their highest-value opportunities, address their most critical challenges, and transform their businesses.
IMARC's information products include major market, scientific, economic and technological developments for business leaders in pharmaceutical, industrial, and high technology organizations. Market forecasts and industry analysis for biotechnology, advanced materials, pharmaceuticals, food and beverage, travel and tourism, nanotechnology and novel processing methods are at the top of the company's expertise.
Our offerings include comprehensive market intelligence in the form of research reports, production cost reports, feasibility studies, and consulting services. Our team, which includes experienced researchers and analysts from various industries, is dedicated to providing high-quality data and insights to our clientele, ranging from small and medium businesses to Fortune 1000 corporations.
Elena Anderson
IMARC Services Private Limited
+1 631-791-1145
email us here