Grassroots Quarterly's first issue publishes in Fall 2023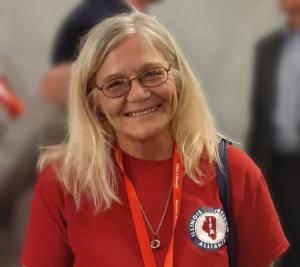 Annie Parchert, Chairperson, Illinois Freedom Alliance
…the magazine will showcase not just what Illinois Freedom Alliance can do, but what all willing citizens can do, to make a difference, here in Illinois."
— Annie Parchert
MOLINE, ILLINOIS, UNITED STATES, August 8, 2023/EINPresswire.com/ — The Illinois Freedom Alliance was started by Annette "Annie" Parchert, a U.S. Army Veteran and a group of her friends. In two short years, with very little outside help, it has grown into a widely recognized, highly effective grassroots coalition and is a 501(c)(4) Civic Organization.
"With one of our goals being connecting volunteers with effective grassroots organizations, we knew communications was going to be key," said Annie, Chairperson for the group.
"With that in mind, our team is launching Grassroots Quarterly, which will highlight successes, share opportunities, shine the spotlight on people and organizations who share our mission and values and help train, equip, inspire and activate volunteers who can then help turn around our troubled state. Readers will pick up strategies and ideas from experts, hear about developing legislative trends, and learn about candidates and missions, worthy of grassroots support."
Grassroots Quarterly will publish its first issue in September and is available by subscription or group membership. The magazine will help support the more behind-the-scenes work the Alliance does, which includes continuous grassroots training, precinct committeeman recruitment and work to keep our elections secure. They also offer candidate services for those stepping up to make a difference, who may not have the backing of the established political parties or have the resources to self-fund a competitive campaign.
"Texting, signs and digital strategies are just the tip of the iceberg for ways we can help elect good, every day people to public office and the magazine will showcase not only what Illinois Freedom Alliance can do, but what all willing citizens can do to be more effective in the political realm here in our state," said Parchert.
"The magazine will also include excerpts from our poll watcher trainings and information about our Poll Watcher Emergency Response or PWER App. We created that tech solution to maximize the effectiveness of our trained poll workers, giving them a cellphone app that lets them file real time incident reports and understand better, every facet of a polling place. The magazine will help people learn more about that as well and our website and emails will round out our communications with more time-sensitive information, such as upcoming training dates and urgent calls to action."
Interested citizens can find out more at the group and the new magazine at their website, www.IllinoisFreedomAlliance.us There, they can sign up for updates, find networking and training opportunities on the calendar of events, read about pending legislation and even watch training videos or volunteer to get involved in top priority issues, like protecting our freedoms and our votes.
"If we are going to have honest, fair and transparent elections and elect good people to office instead of career politicians, we're all going to have to get involved and Illinois Freedom Alliance is here to help. As President, Abraham Lincoln warned us, that trading liberty for security will result in our losing both. Instead, we need to get involved and only then will we secure the blessings of liberty," said Annie in closing.
Inquiries about subscribing or advertising in "Grassroots Quarterly" may be made by calling 309-377-1776 or emailing Patriots@IllinoisFreedomAlliance.US
Annie Parchert
Illinois Freedom Alliance
+1 309-377-1776
Patriots@IllinoisFreedomAlliance.US