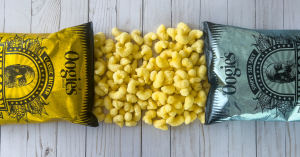 Introducing Oogie's Puffcorn: A delicious expansion to the beloved snack range, crafted in response to customer feedback.
Oogie's Snacks LLC adds organic popcorn and introduces a puffcorn line, meeting consumer demand.
As always, our formula remains the same: better nutritionals, better Ingredients, better flavors, award-winning packaging, aggressive pricing."
— Eric Thier, Founder
DENVER, CO, US, August 7, 2023/EINPresswire.com/ — Oogie's Snacks LLC, manufacturer of Oogie's Gourmet Popcorn & Seasonings, is adding some exciting new products to their snack portfolio, including new organic popcorn offerings and the debut of a puffcorn line of products.
"For almost twenty years, we've been creating delicious, healthy popcorn and seasonings," said Eric Thier, Founder & President of Oogie's. "We're thrilled to add puffcorn to the mix and expand our snack offerings to our customers."
The newest popcorn flavor, Organic Simply Sea Salt, fills a gap in the Oogie's lineup for a straightforward, crowd-pleasing item. "We've always been so focused on bringing exciting, flavorful popcorns to market", Thier said. "The salted popcorn is a direct response to our customers' requests for a clean, simple snack. We can't much get simpler and cleaner than organic corn, organic oils, and sea salt, and it gives our fans another vegan option, too."
The RTE popcorn category grew 13.1% to $1.7 billion over the past year, according to IRI data, with consumers continuously looking for interesting, new flavors.
The company also announced an expansion into the puffcorn category with Oogie's Puffcorn, a line of all-new products. "Classic Butter, Simply Sea Salt, with others to follow… we're psyched to be able to offer these great items to our Oogie's fans, as this was also the result of feedback we've been getting from our customer base."
According to SNAC International's 2023 State of the Industry report, the Corn Snacks category continued impressive growth over the past year, with sales up 21.1% to $1.5 billion.
"We're known for our innovation and expertise in RTE popcorn, and we plan to apply the same approach to our puffed corn line," Thier added.
With the line expansion into puffcorn, Oogie's continues to build out a full portfolio of healthy snack items. "As always, our formula remains the same: better nutritionals, better Ingredients, better flavors, award-winning packaging, aggressive pricing."
About Oogie's Snacks

Oogie's Snacks is a manufacturer of gourmet, all-natural snacks. Based in Denver, Colorado, the company was founded in 2005 by a small group of friends looking to provide healthy snack alternatives. Oogie's products use premium, all natural ingredients, proprietary whenever possible. With a motto of "Nothing Artificial. Ever", all Oogie's items are Cholesterol Free, Trans Fat Free, Gluten Free, and non-GMO.
Additionally, Oogie's has developed Private Label and Store Brand products that can be found globally in tens of thousands of locations.
Haylee Thomas
Oogie's Snacks LLC
+1 269-419-3537
haylee@oogiesnacks.com