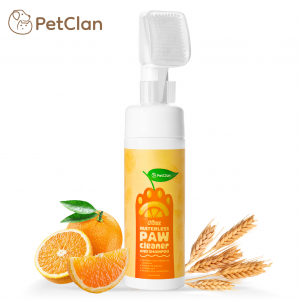 PetClan Citrus No-Rinse Dog Paw Cleaner Foam is a popular waterless paw cleaner and shampoo.
NEW YORK, UNITED STATES, August 8, 2023/EINPresswire.com/ — PetClan's Citrus No-Rinse Dog Paw Cleaner Foam is making waves in the pet care industry. With its refreshing citrus scent, this game-changing product is a timely solution to the age-old dirty paws issue. Its popularity has surged, with over 20,000 satisfied users. This all-in-one product is not just winning hearts; it's changing the pet care routine for the better.
Pet owners know the frustration of dirty paws all too well. But PetClan's Citrus No-Rinse Dog Paw Cleaner Foam has turned a long-standing problem into a convenient and enjoyable experience. When asked, Monica, a delighted customer, stated: "I used to dread rainy days with my Golden Retriever, Max. Mud was our enemy. But life has become much easier since discovering PetClan's Citrus No-Rinse Dog Paw Cleaner Foam. It's now a quick, clean, and gentle staple in our home. I can't thank PetClan enough for this incredible product!"
Monica's words resonate with many. From city streets to country trails, pet owners are discovering the joy of worry-free outings with their furry friends. And here's why:

– Quick Waterless Cleaning with Citrus Freshness: Simplifying pet care with a no-rinse, efficient solution that leaves a mild citrus scent.

-Enhanced Cleaning with Specially Designed Scrubber: A silicone scrubber thoughtfully engineered for maximum cleaning and durability, and a microfiber towel ensures deep cleaning.

-Natural and Gentle Ingredients: Formulated with oatmeal, olive oil, and coconut, this pH-balanced, 100% paraben, dye, and sulfate-free gentle formula is perfect for pets with sensitive skins in all seasons.

– Unmatched Convenience & Portability: This compact cleaner is a perfect companion, whether at home or on the move. Its pump design allows for easy application, making clean-up a breeze anywhere, anytime.
Excitingly, PetClan is continuously working to elevate the pet care experience. A subscription & save program is on its way, and more pack size options, a comprehensive pet foot care kit, and additional fragrance types are being developed.
The rapidly growing popularity of www.PetClan Citrus No-Rinse Dog Paw Cleaner Foam is a testament to its effectiveness and PetClan's dedication to improving the lives of pets and their owners.
Find PetClan's Citrus No-Rinse Dog Paw Cleaner Foam on Amazon and PetClan's official website www.petclan.net. PetClan is actively open to inquiries for retailers and wholesalers. Please contact info@petclan.net for more information.
About PetClan:

PetClan is a renowned pet care brand committed to innovation and quality. Their products, such as the Citrus No-Rinse Dog Paw Cleaner Foam, reflect a deep understanding of pet owners' needs and challenges.

Media Relations
SuperMinds LLC
info@petclan.net