Mivie Social Impact certification
Tom Fernandez, Mivie Founder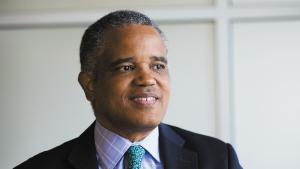 Eric Kearney, former Ohio state senator, Mivie Advisory Board Co-Chair
DEI leaders are leaving their positions, and companies are slowly abandoning these intentional efforts because there isn't a standard of measurement to guide them."
— Eric Kearney, Former Ohio state senator and Mivie Advisory Board Co-Chair
CINCINNATI, OHIO, USA, August 7, 2023/EINPresswire.com/ — A Cincinnati-based start-up has launched the nation's first standard social impact measurement for companies to help them improve and enhance their policies around DEI, corporate social responsibility, and supply chain diversity.
Mivie (Marginalized Impact Value Indicator for Equity) was founded by Tom Fernandez, President/CEO of Elevar Design, after growing frustration with what he calls a lack of intention and commitment by companies to walk the talk regarding social impact in the aftermath of the George Floyd murder. Link to Mivie video here.
According to Fernandez, "After the death of George Floyd and the national racial awakening that came with it, companies strongly pushed to deepen their social impact, but that commitment began to wane. We are back to where we started partly because there is no rule book. Social impact can only be accomplished if we hold organizations accountable through a universal standard certification."
Mivie is different from other tools currently on the market because they examine more than internal human resources practices and policies. Fernandez said, "That will not move the needle on social impact." So a more comprehensive approach was created. Executive Director Ryan James states, "Mivie measures organizations' internal and external policies and practices within nine pillars. They range from hiring, training, and pay equity to purchasing, procurement, and community and environmental impact."
Before hiring James to assemble a team of researchers, business leaders, and DEI specialists to create the platform, Fernandez consulted with childhood friend and colleague Eric Kearney, former Ohio state senator and current president/CEO of the Greater Cincinnati/Northern Kentucky African American Chamber of Commerce. Kearney serves as Co-Chair of Mivie's Advisory Board. According to Kearney, "This idea of a standard measuring tool addresses the issue we are seeing in the space of DEI and corporate responsibility today. DEI leaders are leaving their positions, and companies are slowly abandoning these intentional efforts because there isn't a standard of measurement to guide them. The mission of Mivie is to equip all small, medium, and large businesses with the necessary tools to understand and enhance their social impact, catalyzing long-lasting and positive change." Kearney adds, "It took a lot of hard work and research to develop something that will no doubt help organizations make a profound impact on the communities they serve while also helping these organizations make better business decisions in the DEI and social impact space."
Kimberly Bunton, President of TKT & Associates in Louisville, sits on Mivie's Advisory Board. She was drawn to this start-up after Fernandez explained its larger mission, " Mivie Certification is about continuous growth and improvement rather than achieving a specific score. This unique certification provides organizations the tools and resources to progress and positively impact their workforce and communities."
Mivie's certification is a simple three-step process:

-An organization will complete a nine-section online survey to assess the current workplace policies and practices.

-It takes about one hour to finish the survey.

-A trained Mivie evaluator will review and score the organization's survey responses.

-This takes approximately one month.

-The organization's Mivie liaison will then meet to discuss the survey results, best practices, and recommendations tailored specifically to the organization's future growth.

-The certification lasts two years.
About Mivie

mivie.com

The mission of Mivie (Marginalized Impact Value Indicator for Equity) is to work with organizations to understand and improve their impact on underserved and underrepresented communities through our comprehensive certification process. We do this through empowerment, accountability, change, continuous learning, and embracing culture. The Mivie certification strives to serve communities adversely impacted by workplace practices and policies.
Regina Carswell Russo
RRight Now Communications
+1 513-315-1326
regina@rrightnow.com
Mivie Introduction video