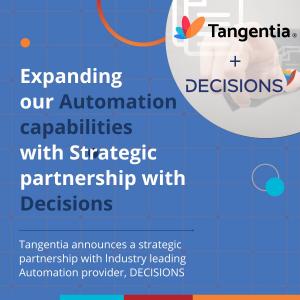 We are excited to announce our new partnership with Decisions, a leading provider of no-code intelligent process automation (IPA) software.
TORONTO, ONTARIO, CANADA, August 8, 2023/EINPresswire.com/ — Tangentia, a leading provider of cutting-edge autonomous enterprise solutions, is delighted to announce its strategic partnership with Decisions, a renowned name in the automation industry, to deliver an unrivalled suite of Decisions automation solutions to clients across the globe.
This collaboration brings together two industry pioneers, each offering complementary expertise, to meet the ever-evolving demands of businesses seeking to optimize their processes and achieve unparalleled efficiency. Tangentia's vast experience in implementing transformative automation technologies across various industries aligns perfectly with Decisions' innovative approach to automation, making this partnership a natural fit.
Through this collaboration, clients can look forward to a comprehensive suite of decision automation solutions that harness the power of advanced technologies such as artificial intelligence, machine learning, and robotic process automation. By seamlessly integrating these solutions into their existing systems, businesses can unlock new possibilities, optimize operations, and gain a competitive edge.
Key benefits that clients can expect from this partnership include:
Improved Efficiency: By automating decision-making and workflows, businesses can significantly reduce manual effort, leading to improved efficiency and reduced operational costs.

Enhanced Customer Experience: Automation streamlines processes, enabling businesses to deliver faster and more accurate services to their customers, ultimately enhancing the overall customer experience.

Agility and Scalability: Decisions' platform is designed to be agile and scalable, allowing businesses to adapt quickly to changing demands and scale their automation initiatives as needed.

Data-Driven Insights: The platform's data analytics and reporting capabilities provide valuable insights into business performance, enabling data-driven decision-making and continuous improvement.

Compliance and Consistency: Decisions' business rule engine ensures consistent adherence to policies and regulations, enhancing compliance and reducing the risk of errors.
About Tangentia
Tangentia is a global leader in autonomous enterprise solutions providing innovative technology solutions and services to clients across various industries. With a track record of successful digital transformations, Tangentia empowers businesses with cutting-edge tools to stay ahead in the dynamic marketplace. To learn more about Tangentia, visit www.tangentia.com.
"Today marks a pivotal moment for Tangentia as we embark on an exciting journey with Decisions. This partnership will unleash a powerful synergy of automation and innovation, enabling us to redefine possibilities for our clients. With Decisions' Decisions' rules-driven Intelligent Process Automation (IPA) platform and Tangentia's expertise driving the Autonomous Enterprise revolution, we are poised to revolutionize industries and drive transformative change worldwide."

VIJAY THOMAS

CEO of Tangentia
About Decisions

Decisions is a leading provider of intelligent automation solutions that enable organizations to automate decision-making processes, streamline workflows, and boost operational efficiency. Its state-of-the-art platform harnesses the power of AI, machine learning, and RPA to drive digital transformation for enterprises worldwide. To know more about Decisions, visit www.decisions.com.
"We are thrilled to partner with Tangentia. By combining our automation expertise with their industry-leading technologies, we are primed to drive business innovation on a global scale. This exciting opportunity will further empower our customers, keeping them ahead in today's fiercely competitive market."

MISSY HILLENBRAND

Director of Channel Sales at Decisions
Vijay Thomas
Tangentia Inc
+91 70203 77137
email us here
Visit us on social media:
Facebook
Twitter
LinkedIn
Instagram
YouTube
Tangentia | Future is Autonomous