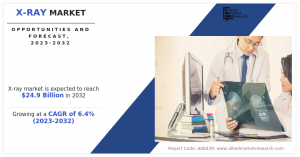 The global X-ray market size was valued at $13.4 billion in 2022 and is projected to reach $24.9 billion by 2032, growing at a CAGR of 6.4% from 2023 to 2032.
PORTLAND, OREGON, UNITED STATES, August 8, 2023/EINPresswire.com/ — The X-ray market has undergone remarkable advancements, becoming an indispensable tool in modern healthcare and various industries. X-ray technology, originally discovered over a century ago, has evolved into a sophisticated diagnostic and imaging solution that plays a pivotal role in medical diagnosis, research, and industrial applications. The global X-ray market size was valued at $13.4 billion in 2022 and is projected to reach $24.9 billion by 2032, growing at a CAGR of 6.4% from 2023 to 2032.
♦ 𝐑𝐞𝐪𝐮𝐞𝐬𝐭 𝐒𝐚𝐦𝐩𝐥𝐞 𝐂𝐨𝐩𝐲 𝐨𝐟 𝐑𝐞𝐩𝐨𝐫𝐭 –
https://www.alliedmarketresearch.com/request-sample/8804
In the field of medicine, X-ray imaging has revolutionized the way medical professionals visualize the human body's internal structures. From detecting fractures and bone injuries to diagnosing conditions like pneumonia and cancer, X-rays provide invaluable insights without the need for invasive procedures. The advent of digital radiography and computed tomography (CT) scans has further enhanced image quality, reduced radiation exposure, and enabled three-dimensional imaging, leading to more accurate diagnoses and treatment planning.
Major market players covered in the report, such as –
Mindray Medical International Limited.,
General Electric,
Shimadzu Corporation.,
Onex Corporation,
Hologic Inc.,
CANON MEDICAL SYSTEMS CORPORATION,
Koninklijke Philips N.V.,
Siemens,
Fujifilm Holdings Corporation,
Allengers Medical System Limited
♦ 𝐏𝐫𝐨𝐜𝐮𝐫𝐞 𝐂𝐨𝐦𝐩𝐥𝐞𝐭𝐞 𝐑𝐞𝐩𝐨𝐫𝐭 (𝟐𝟐𝟎 𝐏𝐚𝐠𝐞𝐬 𝐏𝐃𝐅 𝐰𝐢𝐭𝐡 𝐈𝐧𝐬𝐢𝐠𝐡𝐭𝐬, 𝐂𝐡𝐚𝐫𝐭𝐬, 𝐓𝐚𝐛𝐥𝐞𝐬, 𝐚𝐧𝐝 𝐅𝐢𝐠𝐮𝐫𝐞𝐬) @ https://www.alliedmarketresearch.com/request-sample/8804
Key Benefits for Stakeholders –
• The report provides quantitative analysis of market segments, current trends, strategies and potential of X-ray Market research to identify potential X-ray Market opportunities in genetics.
• In-depth analysis of this sector helps identify current market opportunities.
• Market analysis and information related to key drivers, restraints and opportunities are provided. • Porter's Five Forces Analysis identifies the capabilities of buyers and suppliers to enable stakeholders to make profitable business decisions and strengthen the network of buyers.
• The largest countries in each region are listed according to their contribution to the global market.
• Focusing on market players makes benchmarking easier and provides a clear understanding of the current market situation.
• The report includes regional and global X-ray Market analysis, key players, market segments, application areas and Market growth strategies.
Beyond healthcare, X-ray technology finds widespread use in industrial sectors such as aerospace, automotive, and manufacturing. Non-destructive testing (NDT) using X-rays helps identify defects in materials, welds, and components, ensuring quality control and safety. Moreover, X-ray systems contribute to research and development by aiding in the analysis of materials' composition, crystal structures, and elemental content.
The X-ray market continues to grow with technological innovations, including portable and handheld X-ray devices that facilitate point-of-care diagnostics and field inspections. As the demand for precise and efficient imaging solutions remains high, the X-ray market's evolution holds the promise of further advancements that will continue to shape industries and improve human lives.
The X-ray Market is expected to witness a significant growth in the coming years. This market has gained interest of the healthcare and medical sectors owing to increased prevalence of hypertension throughout the globe. Furthermore, the global X-ray Market is segmented on the basis of product type, end user, and region. leading market players have been introducing various strategies to help enterprises move their on-premise models to on-demand models.
♦ 𝐅𝐨𝐫 𝐏𝐮𝐫𝐜𝐡𝐚𝐬𝐞 𝐄𝐧𝐪𝐮𝐢𝐫𝐲 𝐈𝐧 𝐃𝐞𝐭𝐚𝐢𝐥 –
https://www.alliedmarketresearch.com/purchase-enquiry/8804
Frequently Asked Questions?
Q1. What is the total market value of X-ray Market report?
Q2. Which are the top companies holding the market share in X-ray Market?
Q3. Which are the largest regions for this Market?
Q4. What is the leading technology of X-ray Market?
Q5. What are the major drivers for this specific Market?
Q6. What are the upcoming key trends in the X-ray Market report?
✅ 𝐓𝐫𝐞𝐧𝐝𝐢𝐧𝐠 𝐑𝐞𝐩𝐨𝐫𝐭𝐬 𝐈𝐧 𝐇𝐞𝐚𝐥𝐭𝐡𝐜𝐚𝐫𝐞 𝐈𝐧𝐝𝐮𝐬𝐭𝐫𝐲 –
Surgical Power Tools Market – https://www.alliedmarketresearch.com/surgical-power-tools-market
Cardiovascular Prosthetic Devices Market – https://www.alliedmarketresearch.com/cardiovascular-prosthetic-devices-market
Foot Orthotic Insoles Market – https://www.alliedmarketresearch.com/foot-orthotic-insoles-market-A14327
CAR T-Cell therapy Market – https://www.alliedmarketresearch.com/car-t-cell-therapy-market-A16971
About Us –
Allied Market Research (AMR) is a full-service market research and business-consulting wing of Allied Analytics LLP based in Portland, Oregon. Allied Market Research provides global enterprises as well as medium and small businesses with unmatched quality of "Market Research Reports" and "Business Intelligence Solutions." AMR has a targeted view to provide business insights and consulting to assist its clients to make strategic business decisions and achieve sustainable growth in their respective market domain.
Pawan Kumar, the CEO of Allied Market Research, is leading the organization toward providing high-quality data and insights. We are in professional corporate relations with various research data tables and confirms utmost accuracy in our market forecasting. Each and every us companies and this helps us in digging out market data that helps us generate accurate y data presented in the reports published by us is extracted through primary interviews with top officials from leading companies of domain concerned. Our secondary data procurement methodology includes deep online and offline research and discussion with knowledgeable professionals and analysts in the industry.
David Correa
Allied Analytics LLP
1 800-792-5285
email us here
Visit us on social media:
Facebook
Twitter
LinkedIn